A lifetime experience: Jeff Mills performing in Delos
Superstar techno DJ Jeff Mills performing at the ancient ruins of Delos island
Based on an idea by the ADD Festival, the Onassis Foundation invites Jeff Mills, together with the "Tomorrow Comes the Harvest" music ensemble, to perform a unique concert at the ruins of the ancient temple of Isis, in Delos.
American DJ and composer Jeff Mills is one of the pioneers of contemporary dance culture and a legend of electronic music. From the Detroit clubs in the 1980s through to his contemporary conceptual appearances at cinemas, galleries and museums, Jeff Mills has earned the respect of even those with only a basic familiarity with what is generally called electronic music, which he often mixes with jazz.
DJ Jeff Mills, keyboardist Jean-Phi Dary and the master of the Indian tabla, Prabhu Edouard, have formed a subversive music group that aims to transcend, explore and mature, without compromise or preconceptions. Those three artists traveled to this mythical place to bring it back to life and transform it, while being inspired by its ancient secrets, its hidden intensity and the mystical power of nature.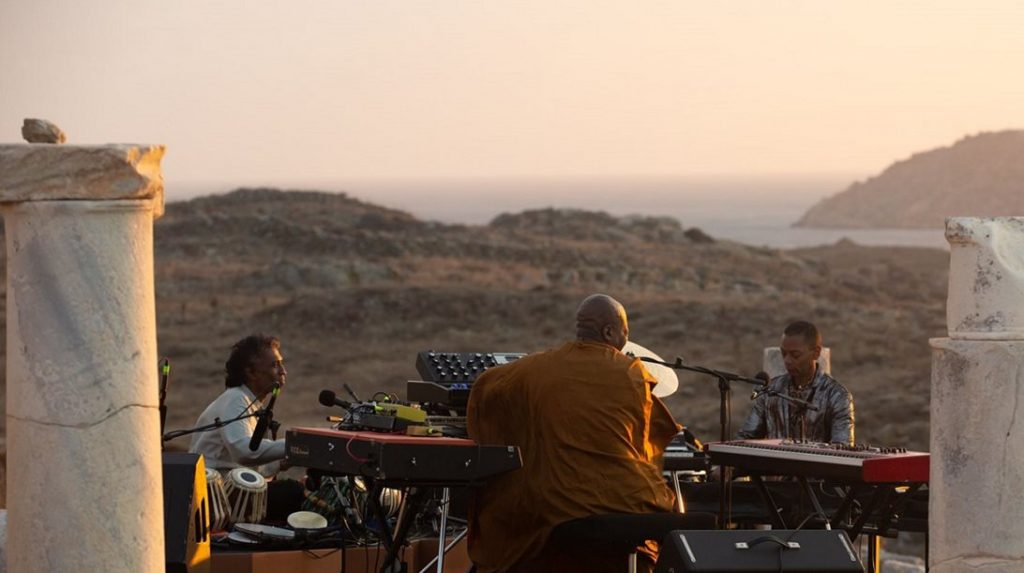 After three hours of rehearsal at the beginning of the summer, a rare collaboration and communication of musicians emerged, based on improvisation that is difficult to distinguish. Mills, as a guide, gives Edouard and Dary time and space to be themselves. It's a truly magical set.
"Tomorrow Comes the Harvest" performed an almost mystical concert against the backdrop of the insurmountable monumental site of Delos, the Mediterranean light and the air of Cyclades, to honor the ancient Greek gods and goddesses of all religions, and to regenerate the spirit of life.
Jeff Mills commented that after this experience of living on the island of Delos, it is difficult for him to imagine that each of them is —mentally— the same person who was before their trip: "I'm not sure exactly what, but I have the sense that something was advanced and elevated".
The audiovisual experience was captured through Christos Sarris' lens and was screened worldwide on the Onassis Channel on Youtube, on January 20, 2022 — and it's definitely one of the most fascinating videos you must watch!
---
Featured Photo: Pinelopi Gerasimou / Source: onassis.org